Subscriptions
Pathways is published 4 times per year in a Winter, Spring, Summer and Fall issue. Subscription rates shown are for four issues. New subscriptions begin with the next issue published. All prices shown are in Canadian Dollars. No sales taxes apply.
Click on the subscription image, below, to match your delivery address. You will be taken to the CLF's payment processing partner, PayPal, to complete your subscription order. Please note that you do NOT have to have a PayPal account to complete your subscription purchase. You will be prompted with a choice to either log in to your PayPal account or to complete the purchase without a PayPal account by clicking, "Pay with Credit Card or Visa Debit."
Please note: Subscriptions will automatically renew until cancelled to ensure uninterrupted delivery. Contact us any time with questions or to request an address change or cancellation.
Did you know? You can receive Pathways Magazine as a benefit of membership in your provincial lymphedema association. Find your provincial association here.
Looking to Subscribe to our HP Toolkit for Health Professionals? Find that information here.
$30.00 CAD
$60.00 CAD
$75.00 CAD
$30.00 CAD
Includes Delivery Anywhere
in Canada
Includes Delivery Anywhere
in the USA
Includes Delivery Anywhere
Outside Canada/USA
Includes Digital Access Only
No Print Copy Mailed
Order Back Issues
Use links, below, to submit an order and payment for one or more back issues.
Prices shown are in Canadian Dollars and include shipping. No tax applies.
If you are ordering more than 4 back issues, contact us for a quote.
Please contact us to inquire about the availability of the issue(s) you are interested in before completing your purchase.
You can browse back issues digitally on our archives page at this link.
Email us at: pathways@canadalymph.ca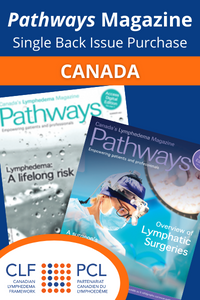 ---
---
---
We acknowledge the support of the Government of Canada.