Venue
Our venue is the Toronto Airport Marriott Hotel, conveniently located near the Toronto Pearson International Airport.
Click here to book a room at the special conference rate.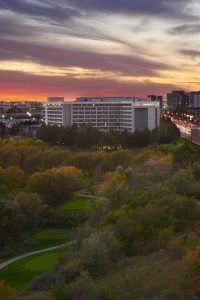 With easy accessibility to the Toronto Pearson International Airport, this hotel will be convenient to both local and out-of-province delegates. Designed for business and leisure travel, Toronto Airport Marriott Hotel is a relaxing haven near the area's more compelling attractions. Contemporary comfort awaits in spacious, family-friendly rooms and suites, featuring plush bedding, in-room dining, mini-fridges, flat-screen TVs and an abundance of natural light. Discover more than 26,000-square-feet of versatile indoor and outdoor space for meetings, conferences and social occasions. After a satisfying day of business or sightseeing, savor distinctive cuisine and handcrafted signature drinks at Wayside Social – Eatery Café Bar. With a sparkling indoor pool, well-equipped fitness centre and complimentary airport shuttle, their perfectly located hotel has everything you need, exactly where you need it.
A number of hotel rooms have been reserved for the conference participants at the Toronto Airport Marriott Hotel. Rooms can be booked at favourable prices. Nightly double occupancy rates start at $149.00. These are subject to availability.
Key Dates
October 03 – last date to book the Toronto Airport Marriott Hotel for block room rates (based on availability).
City – Toronto
Welcoming over 40 million visitors annually, Toronto is the leading tourism destination in Canada. This bold, dynamic city offers superb attractions, music and events backed by the best convention and sports facilities in Canada.
Key Facts
Toronto offers a wide variety of tourism options:
Music, film, sports, cultural, entertainment, performing arts, festival and events, international cuisine, parks and recreation, first-rate accommodations, and shopping, including 7 professional sports teams, 8,000 restaurants, more than 500 live music venues, more than 50 tour operators and over 100 attractions.
Large-scale special events can be found every weekend of the year with a number of signature events in the city including, Nuit Blanche, Luminato, Pride, Toronto Caribbean Carnival, Canadian National Exhibition and the Toronto International Film Festival.
60+ multifunctional event venues, 35+meeting facilities and over 100 professional event and meeting planners in the city assist in making Toronto the choice for meetings and conventions.
Major convention centres offer a large amount of choice to the meetings and conventions market including Metro Toronto Convention Centre along with the Toronto Congress Centre and the Enercare Centre, 2 of the largest largest in North America.
Toronto is a City of Neighbourhoods, often represented by a vibrant Business Improvement Area.
Toronto is one of the world's most diverse cultural, culinary and entertainment communities, over 50% of the population is foreign born.
The city has the greatest selection of accommodation in Canada, including over 43,000 hotel rooms in the greater Toronto region – 40% are located in downtown Toronto. Downtown Toronto hotels consistently achieve occupancy rates of about 73% whereas the hotel occupancy rate in the GTA is about 67% (PKF Consulting Inc., 2012 Outlook Greater Toronto Hotel Association).
Toronto Pearson International Airport is Canada's primary air hub. It provides about 400,000 flights and carries over 40 million passengers annually (GTAA).
Billy Bishop Toronto City Airport is right in the downtown welcoming more than 2.5 million passengers annually.