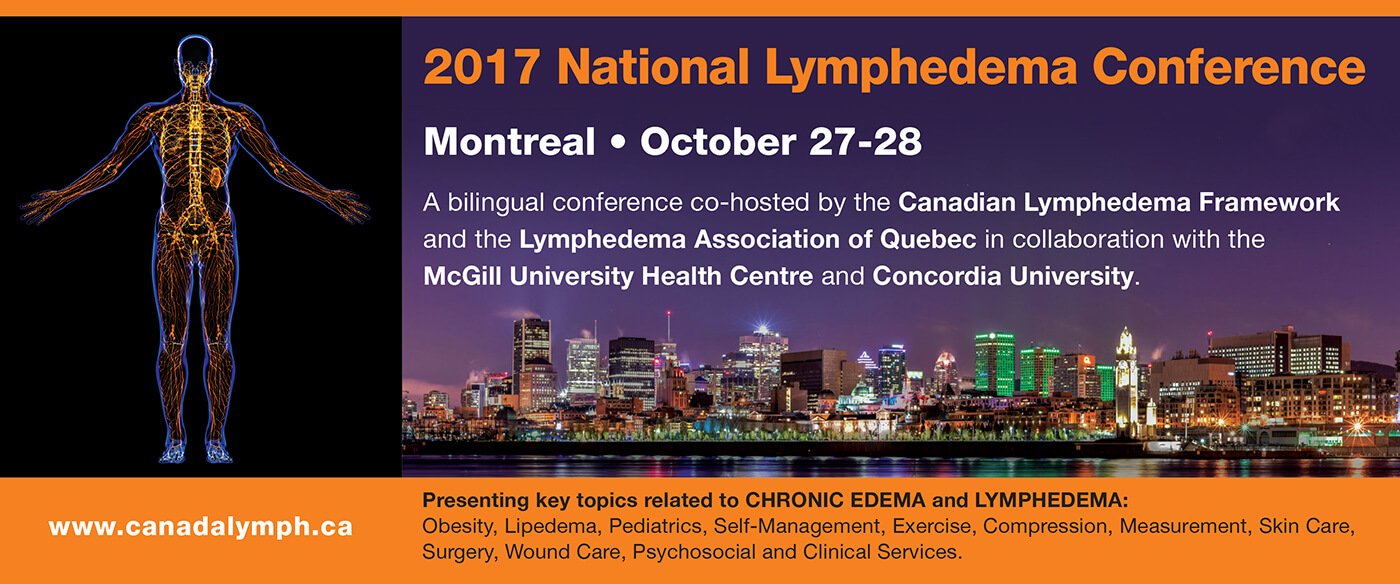 The Canadian Lymphedema Framework (CLF) and the Lymphedema Association of Québec (LAQ) are proud to have co-hosted the 2017 National Lymphedema Conference, which was held in Montreal, Quebec October 27-28 2017. The McGill University Health Centre and Concordia University also collaborated on this bilingual event.
Over the course of two days, patients and health professionals shared stimulating ideas, new research and innovative solutions to the many issues faced by people who live with lymphedema as well as the health professionals who provide their care.
Thank you to all participants who joined us in Montréal this year. To learn more about the conference, we encourage you to read the 2017 National Lymphedema Conference Review 2017, published in the Winter 2018 edition of Pathways magazine, and visit the links below.
Conference Review Items Available for Download:
Review of Abstracts presented at the Conference
Final Agenda: English / Français
Session Descriptions: English / Français
A bit about the Conference:
Scientific and Organizing Committees
Your Hosts
Founded in 2009, the Canadian Lymphedema Framework (CLF) is an academic and patient stakeholder collaboration promoting lymphedema research, best practices and clinical development. The CLF is modeled on, and has a partnership with the International Lymphoedema Framework, and links with other national lymphedema frameworks and provincial associations in order to contribute to the global advancement of lymphedema care. The CLF core mission is to improve the management of lymphedema and related disorders in Canada.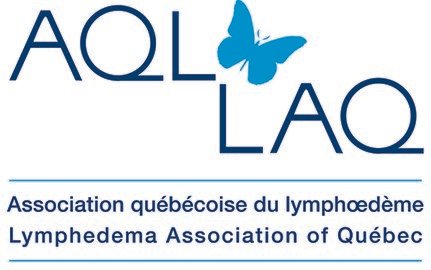 The Lymphedema Association of Québec (LAQ) is a charitable organization founded in 1999, comprised of individuals living with lymphedema, as well as their families, friends and healthcare professionals. The objectives of the LAQ are to provide support to persons afflicted with lymphedema, defend and promote their interests, provide education and awareness to them and their families and healthcare professionals, and encourage scientific research for a cure for lymphedema.
The Lymphedema Program of the McGill University Health Centre (MUHC) provides early detection and risk reduction assessment services and advice on self-management of lymphedema. It is also involved in the education of health professionals and patients, in clinical research and in the creation and promotion of best practice standards of care.
The Department of Exercise Science (Faculty of Arts and Science) at Concordia University is committed to teaching and research in exercise, health, and physical activity, with emphasis on athletic therapy and clinical exercise physiology. The PERFORM Centre provides an integrated and comprehensive environment to promote healthier lives through changes in behavior and lifestyle by offering research opportunities, education, and preventative-based programs.